"Corporate Social Responsibility" strikes at the very heart of Egis's company values, so the opportunity to invest in Shabbington Butterfly Preservation with our stakeholders was an occasion that we were very proud to be involved with.
The area of woods supports populations of rare black and brown hairstreak butterflies. The black hairstreak butterfly is one of the UK's most elusive butterflies, only occurring in thickets of blackthorn in woodlands on heavy clay soils between Oxford and Peterborough in this case adjacent to the M40, operated by Egis.
The works involved replacing an age expired access bridge to allow the conservation volunteers to walk a set route every week in the summer and observe the number of butterflies they come across as part of a national survey. In order to further sustain and promote the populations of hairstreak butterflies and encouragement of the habitats, thickets of blackthorn were planted along with bat boxes and bug habitats to complement the wildflower beds sown. Key partners Highways England and UK Highways Ltd kindly resourced and supported the event investing resources to a very special project.
Egis arranged for their apprentices to design and project manage as part of their studies for Level 2 NVQ in Construction Operations and Civil Engineering Services.  The Apprentices have had to survey the site, set out the bridge, manage quotations from Contractors together with programming the work (to budget), they even went out on site to work with the Contractor to aid with the bridge construction.
The apprentices have been asked by UK Highways to produce and deliver a power point presentation to our Highways England Client at their offices in Bedford.
As a culmination to the project a joint CSR day was arranged on site. On a cold, damp day late in November, staff from Highways England, UK Highways and Egis, together with their apprentices, spent half a day on site to see the last pieces of the bridge installed. In addition to this, bird boxes were installed to complement the area. The bird boxes were sourced from "RAW" workshop, a local registered charity, which employs, trains and supports people from local communities who face prejudice and barriers to work. All the materials used in the manufacture of the boxes are from reclaimed timber.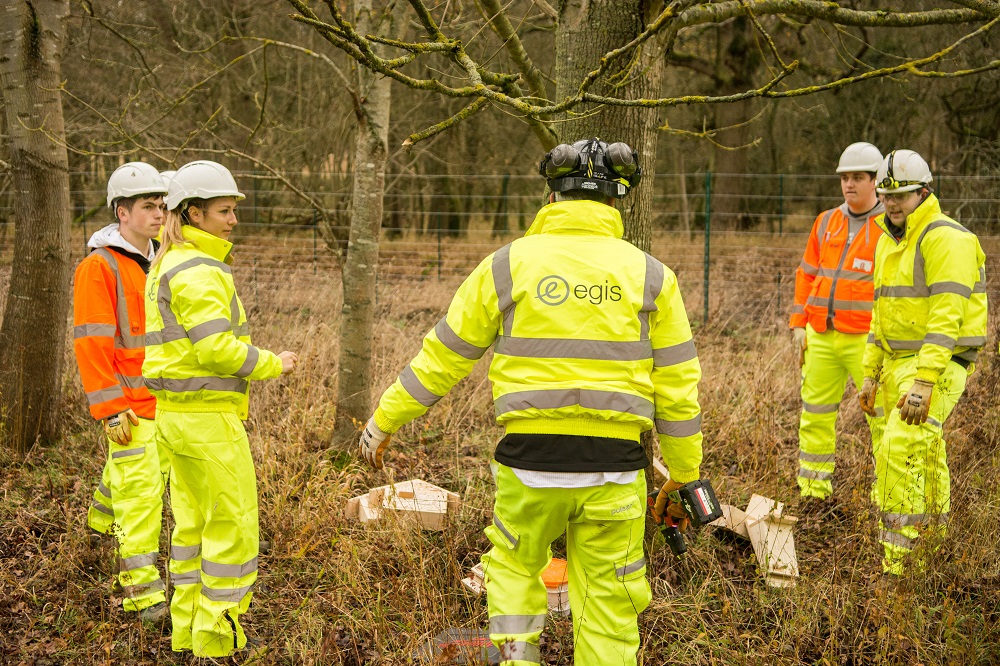 Egis staff installing the bird boxes
This was a great collaboration between all tiers of the M40 Contract. Not only was this an opportunity to enhance a conservation area, it was also an opportunity to invest in and develop the skills of the O&M Contractors apprentices by allowing them to manage the job from start to finish, learning valuable Civil Engineering skills together with Sustainability Partnering and Ecological awareness.
"Not only is this an opportunity to sustain a very rare species of butterfly it was also an opportunity develop the skills of our apprentices by allowing them to project manage the job from start to finish learning valuable Civil Engineering skill Sustainability and Ecology in partnership with UK Highways and Highways England."