Egis teams recently completed an innovative pilot project on behalf of the European Union Agency for the Space Programme 'EUSPA' and the City of Valencia in Spain to demonstrate how Earth observation data from Copernicus could support decision making at municipal level to improve quality of life for citizens.
The twelve-month project secured the participation of Valencia, 2024 Green Capital of Europe and identified a range of use cases spanning urban planning, emergency management, climate change mitigation and natural resource management. These led to the selection of seven key performance indicators that could be tracked across time and space, and then mapped onto a 'dashboard' that synthesised and simplified complex information that could be shared with city authorities, regulators and citizens.
Commenting on the project, Daniel Lopour of EUSPA said: "This project demonstrated EU Space programme capabilities and relevance for any city with green ambitions. In particular, Copernicus can support several municipal use cases, fill gaps in current datasets, and can provide maximum value when integrated with additional data, based on the individual municipality-driven requirements."
Jan Cernan, consultant at Egis explained: "This kind of dashboard can help city authorities understand the status of a range of key performance indicators and provide visualisations to evidence the success of measures implemented by cities over time. It can help them not only with tracking and responding, but also with communicating. Other European cities are interested in exploring geospatial data, but they need resource and time to take it forwards. We're hopeful that this 'proof of concept' is useful to more cities keen to track their environmental performance."
Luis Roda Garcia, EMT Valencia thanking the project team, added: "As a result of participating in the EU Space programme, Valencia's municipal technical services gained experience and knowledge on the capabilities and limitations of the programme, which can combine with local data and IoT sensors. The initiative also brought stakeholders together, providing opportunities to share experiences, possibilities, and future developments. Additionally, the pilot could potentially contribute to Valencia's existing dashboards.
The next steps will include establishing long-term plans for the inclusion of Space data to respond to the needs of sustainable mobility within the municipality, such as low emission zones, MaaS, transport on demand, training and skilling. This pilot project is a significant milestone in the use of Earth observation data for city-level decision making and has set the stage for more cities to explore the potential of geospatial data to track and improve their environmental performance."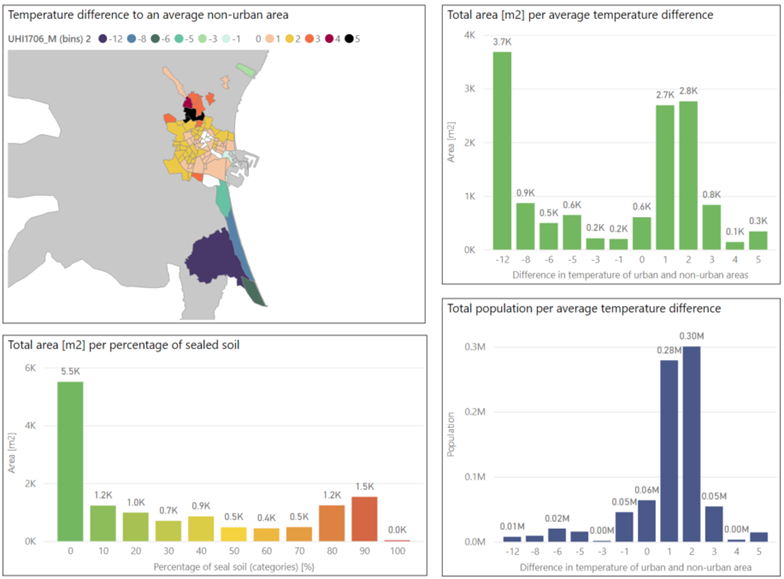 Dashboard sample screenshot – Urban Heat Islands (UHI)